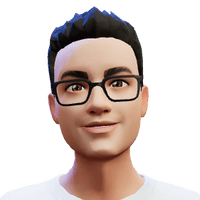 Régis Gaidot
Chief Technical Officer
VP of Engineering
Software Architect/Craftsman
Full-Stack Engineer
Web3 Enthusiast
I'm french Software Architect & Craftsman living in Paris, working in the field for more than 20 years. I've had the opportunity to work and learn with a large variety of technology. I was a demomaker (atari, amstrad, amiga and PC) in the 90s - Razor 1911, (0x309 / 777 in hexadecimal :-)). I spent a large portion of my youth on BBS and IRC. I've learned various programming languages over the years, such as Basic, C, C++, Prolog, Lisp, PHP, Pascal, Ruby, Python, Java, C#, Go, Rust, JavaScript/TypeScript, Solidity and so on. I've a good mastery of continuous integration / delivery (k8s, docker, AWS, GCP, OVH...). When I want to learn something new, I start by practicing first, rather than learning the theory. For me, learning new technologies is like learning how to ride a bike. You practice, fail, get back up and repeat.
Computer enthusiast since the age of 9 years.
Throughout my career I've had many technical responsibilities. I'm also responsible for many projects and innovations including advanced technologies for various software companies. I'm creator and contributor of open source software since 1996. I'm very interested about innovative and complex challenges. I've a passion for building highly disruptive new products. I like to work in challenging and creative environments and I'm really interested in working with people highly motivated to tackle each challenge as doable. I'm a polyglot developer, architect and devops.
I've participate in the creation, technological development and board member of various European Startups. My technology exploits have been featured on big media and blogs.
I spend a lot of my time creating software and consulting as a researcher, looking for new challenges.
I'm constant to look, read and think about what comes next and I stay focused on the horizon, in anticipation of what's coming up next.
I spend some of my free time advising in technology-driven startup companies. I think, I've an good ability to decipher seemingly complex new technologies and translate them into a simple set of business benefits.
Elsewhere, you can find or ping me on a variety of social websites like Twitter or LinkedIn.